Overview
Orly Airport (ORY) is located midway between the towns of Orly and Rungis on the southern edge of the department of Val-de-Marne (94), bordering Essonne (91), in Ile-de-France (see map).
Originally known as Villeneuve-Orly Airport, the facility was opened in 1932 to serve as a secondary airport to Le Bourget. Prior to this time, starting in 1923, two huge airship hangars had been built there by the famous engineer Eugène Freyssinet. (see photos)
Airport terminals
The airport has two main terminals (fr. Aérogares):
South Terminal (Orly Sud)

The older South Terminal, with two double-level concourses, handles most of the long-haul routes. Its Departures level (ground floor) is divided into a non-Schengen Hall A and a Schengen Hall B, with elevators/escalators to the Arrivals level (first floor) containing Halls C through G. Amenities include food & drink establishments, shops, an Airport Information counter, ticket counters, Internet access, foreign currency exchange, smoking area, and babycare area.

(See list of airlines and destinations by terminal.)

West Terminal (Orly Ouest)

The newer West Terminal, with two concourses, is home to only a few airlines. Its Departures level is divided into a Central Hall, Halls 1 & 2 to the right, Halls 3 & 4 to the left. A moving walkway close to Door A and Hall 1 connects to the South Terminal. An escalator in the Central Hall connects to the Mezzanine level which houses La Brasserie and Le Bar Américain, while elevators take you to car park P0.

(See list of airlines and destinations by terminal.)
Baggage claim areas and car rental desks are found on the Arrivals levels in both terminals.
Parking Facilities
Adjacent to the South Terminal are three car parks (P1 & two P3s); two others (P0 & P2) are located next to the West Terminal. One car park (P5) is situated across from the Hilton Hotel, while the large Long-Term lot (P7) is a bit further down. There is also an Economy lot (P4) at the airport entrance. (see map)
Navigating between terminals and parking
A free shuttle service is available between the terminals and car parks. One may also ride the automatic, driverless Orlyval train between South and West Terminals.
For suggested methods and routes between terminals and from Orly to Roissy-Charles de Gaulle Airport (all terminals), consult the interactive Connecting Flights Guide.
Transport to and from Orly
The distance from Orly to central Paris (75001) is roughly 19 km or 12 miles (consult travel times for each arrondissement, or neighborhood). From Orly to Roissy-CDG is approximately 41 km (26 miles), and Orly to Disneyland is about 49 km (30 miles).
There are a number of options for transferring from the airport to the City of Paris (postal codes 75001-75020), or to Roissy-CDG for connections with international flights. A couple of these will also offer transport to certain suburbs and/or Disneyland area hotels.
Car Hire / Rentals
Orly Airport offers the convenience of picking up a car hire/rental quickly after your flight has landed, thereby avoiding a trip into the city.
On the other hand, if you plan to visit Paris for a few days or longer before driving off into the countryside, you may save some money and avoid parking issues by picking up your vehicle at a number of central city locations (including train stations) toward the end of your Paris stay.
We would tend to discourage renting a car at all if you plan to remain in Paris for the duration of your trip – traffic is horrendous, parking can be difficult (and expensive) in the city, but public transportation is easy and extensive. In case of a special occasion – such as a dinner cruise on the Seine or at the Eiffel Tower, with pick-up at your hotel or apartment – you might wish to consider arranging a private chauffeured sedan instead.
There are six car rental agencies located in the airport:
Avis Budget
Phone: 08.20.05.05.05
Terminal: West/Ouest
Hours: 6 a.m. - midnight


Europcar
Phone: 08.25.35.83.58
Terminal: West/Ouest
Hours: 6 a.m. - midnight


Hertz
Phone: 01.39.38.38.38
Terminal: West/Ouest
Hours: first to last flight

National-Citer
Phone: 08.25.16.12.12
Terminal: West/Ouest
Hours: 6 a.m. - midnight


SIXT
Phone: 08.20.00.74.98
Terminal: West/Ouest
Hours: Mon-Fri, 7 a.m. - 10:30 p.m.; Sat-Sun, 7:30 a.m. - 10 p.m.


TT Car Transit
Phone: 08.00.10.12.61, 01.49.75.13.50
Terminals: South/Sud, West/Ouest
Hours: unknown
Available car makes include: Audi, BMW, Chevrolet, Citroën, Fiat, Ford, Jeep, Mercedes-Benz, Nissan, Opel, Peugeot, Porsche, Renault, Volkswagen, Volvo, and more (varies by location). Body styles include: Mini/Economy, Compact/Midsize, Family Size, Luxury, Sports Car, SUV/4WD, and Cabriolet/Convertible.
Booking your car hire in advance can save considerably on the base rental, insurance, and – particularly for non-residents of the European Union – the very high French TVA (en. VAT, or Value-Added Tax).
Discover France has partnered with Auto Europe to offer easy online booking of the widest selection of models to suit your needs and budget. Founded in 1954, Auto Europe is an international car hire broker (consolidator) which has negotiated the guaranteed lowest rates with all major rental companies.
Based on the model you select, your vehicle pick-up will be pre-arranged at any one of the Orly Airport or Paris City agencies, according to your preference. Toll-free customer service is available round-the-clock – 24/7. For longer visits (21 days or more), an attractive lease-buyback program is also available, featuring your choice of brand-new Peugeot models.
For the rules of the road, driver tips, information about speed limits, fuel, highway tolls, rest areas, parking, and a glossary of useful terms – see our article "Driving In France".
Taxis
Since Orly is so close to Paris, taxis can be a quick – if somewhat expensive – way to go. We do not recommend this method at rush hour, since fares can mount quickly while stuck in traffic!
The rates, which are regulated by the Paris Prefect of Police, vary according to the time of day and the zone of travel (urban, suburban, and beyond). In normal traffic and excluding supplements, expect a fare between Orly Airport and Paris to range from €30 to €45, depending on the arrondissement.
In addition to the metered amount, there is a supplement of about €1 for each piece of luggage, as well as €3 for a fourth passenger. Families traveling with infants should keep in mind that taxis will not have a child seat available; they are exempt from this requirement.
When you phone for a taxi to return from Paris back to the airport, the meter starts running from the point where the taxi was dispatched – which could be anywhere in the city. Consequently, the fare showing on the meter may already be €7-10 by the time you board the vehicle at your hotel.
Be prepared to pay the driver cash (in Euros); drivers must issue a receipt if you request one.
Some taxis also accept credit cards, which will be indicated in a notice on the back side window (amounts over €15 only).
Since many drivers do not speak English, it's a good idea to have your destination address written down or printed out.
Parisian taxis are required to accept passengers of limited mobility with wheelchairs, and there is no charge to carry a wheelchair.
Smoking in taxis is normally prohibited, unless the driver happens to want a cigarette, in which case it may be negotiable.
Taxis do not provide infant- or child-seats. Parents with infants or toddlers should seek out shuttle operators who provide such seats.
It is customary to tip the driver about 10% of the fare, if service is good and the cab is clean.
Shared and Private Shuttle Vans
An affordable alternative to the high cost of taxis and other private transportation, various airport shuttle companies offer air-conditioned, non-smoking, 7- and 8-passenger minivans with comfortable seating and ample cargo space.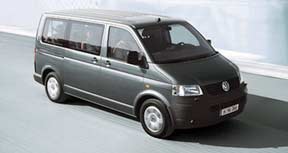 Volkswagen minivan – shared or private shuttle.
Also available, for private transfers only:
9-15 pax minibus & 16-49 pax coach.
(click to see other views)
Courteous English-speaking drivers will assist you with your luggage, then drive you safely from either Orly (south or west) terminal directly to your hotel or other address in Paris. Some companies also provide transport to outlying suburbs (by prior request) and the Disneyland-Paris Resort area.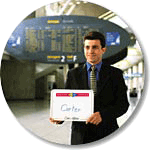 While Orlybus and Air France shuttle fares may be somewhat cheaper, they do oblige you to walk, navigate the Métro with your luggage, or take a taxi from their limited drop-off points in Paris to your hotel, thus increasing your final cost and time to your destination. By contrast, the minivan shuttles provide "door-to-door" service, combining convenience and the shortest travel time at reasonable rates.
Ideal for couples, small groups, or families with children (some operators offer child seats for added safety) – these shuttles plan their passenger loads so that no more than 3 stops are made on any one trip into the city (private shuttles are also available). Advance reservations are required. You will be asked to provide your arrival time, flight number, and airline; the operator monitors your flight's arrival status by Internet, assuring that a driver will be there to greet you – even if your flight is delayed.
OrlyBus
More economical than the Air Frence Coach or Orlyval+RER (rail) is the RATP's OrlyBus (also known as line #283), which goes from Orly-Sud and Orly-Ouest to the métro/RER station at Denfert-Rochereau (14th arrondissement), with stops at Jourdan Tombe Issoire, Parc Montsouris, and Alésia - René Coty (all in the 14th). On the route back to the airport, the stops are Dareau - Saint-Jacques, Glacière - Tolbiac, and Stade Charléty - Porte de Gentilly.

Hours of operation are 6:00 a.m. to 11:30 p.m. (12:30 a.m. on week-ends), with departures every 15-20 minutes; travel time is about 30 minutes. (View route map.)
A one-way OrlyBus fare from the airport to Paris is €7.20 (no child discount is available). Other valid fares – when purchased for Zones 1-4 – include the Paris Visite pass (1, 2, 3 or 5 days), the weekly or monthly Navigo Découverte, and the yearly Imagine R student pass (valid on weekdays only). One-day Mobilis passes are not accepted.
This is not a "coach bus"; there is no storage compartment underneath. It is actually an articulated city bus (with an accordion center connecting two halves, and 3 or 4 doors). At the front and in the middle, there are two small shelves for luggage. (see photo)
OrlyBus is operated by RATP, the principal transportation authority for Paris. Bus vehicles are the model "OmniCity 18m" (59 feet long) by Scania, manufactured in Słupsk, Poland.
Paris City Bus
The bus lines 183, 285, and Noctilien all serve the Orly Airport south terminal (Orly Sud).
Bus 183 – Destination is the Porte de Choisy métro station (13th arrondissement). Travel time is about 40 minutes, with 33 intervening stops. Departs every 30 to 40 minutes, from 6:00 a.m. (7:00 a.m. on Sundays & holidays) until 9:40 p.m. (see PDF route map)
Bus 285 – Destination is the Villejuif (94800, just south of Paris) Louis Aragon station. Travel time is about 15 minutes, with 11 intervening stops. Departs every 10 to 20 minutes (30 minutes on Sundays & holidays) until 1:30 a.m. (see PDF route map)
HINT: Since the terminus on both bus lines is served by métro Line 7, the #285 bus provides a cheaper and more expedient route to Paris.
The Noctilien service runs only at night from 12:30 to 5:30 a.m., 7 days a week. Line N31 – a "local" bus with 45 intervening stops – heads from Orly to the Gare de Lyon (12th arrondissement), where one can transfer to any one of 14 other Noctilien routes. Line N131 – an "express" bus with only 7 intervening stops – also heads to Gare de Lyon.
Fares for both day and night buses depend on the number of zones traversed during one's trip. For example, a one-way fare from Orly (Zone 4) to central Paris (Zone 1) is €5.10 (€6.00 when purchased on-board) – or three (3) t+ tickets (not transferable to another bus or the métro).
In lieu of buying individual tickets, certain passes may also be used for the network of day or night buses (when purchased for Zones 1-4). These include the Paris Visite pass (1, 2, 3 or 5 days), the weekly or monthly Navigo Découverte, and the yearly Imagine R student pass (on weekdays only).
Orlyval + RER-B (express commuter train)
The airport is indirectly connected to Paris downtown by the Orlyval (automatic métro), a short 8-minute hop to the RER station 'Antony' in the suburb of Arceuil. From there you can take the RER-B rail line (regional métro system) north, directly into the heart of Paris (see PDF route map).

The journey takes about 35 minutes to reach the Châtelet–Les Halles RER/métro complex (1st arrondissement). There are seven stops on RER-B within Paris; four of these offer connections (fr. correspondances) to certain métro lines, as follows:
Cité-Universitaire
Denfert-Rochereau (métro lines 4 & 6)
Port-Royal
Luxembourg
St-Michel Notre-Dame (métro lines 4 & 10; RER line C)
Châtelet–Les Halles (métro lines 1, 4, 7, 11, & 14; RER lines A & D)
Gare du Nord (métro lines 2, 4, & 5; RER lines D & E)
Orlyval operates between 6:00 a.m. and 11:00 p.m., leaving every 4 to 7 minutes from each Orly terminal (Orly Sud and Orly Ouest). Tickets for this service can be purchased in all métro and RER stations, and also at a special Orlyval sales desk in Orly airport.
The one-way Orlyval fare is €8.70 for adults and €4.35 for children (ages 4-10) just to reach the 'Antony' station – rather expensive in light of the short distance involved! A combined Orlyval + RER fare is €11.30 for adults and €5.65 for children to head into the center of Paris. Another valid fare, when purchased for Zones 1-4, is the Paris Visite pass (1, 2, 3 or 5 days) – a much better choice if you'll be traveling often on the métro and/or buses during your stay.
Note: RATP passes such as the weekly or monthly Navigo Découverte and the yearly Imagine R student pass are not accepted on the Orlyval.
Transport between Orly and Roissy-CDG airports:
To get to Orly Airport from CDG Airport, take the RER-B (direction Massy Palaiseau or Saint-Rémy-lès-Chevreuse) to Antony station, and then take the Orlyval. Traveling from Orly to CDG, take the Orlyval to Antony station, then the RER-B to Aéroport Charles de Gaulle. The combined one-way fare is €20.30 for adults and €12.05 for children. Once again, the Paris Visite pass (Zones 1-5) is valid for this trip.
A note of caution – Senior citizens, travelers with heavy luggage, disabled persons, or families with small children in tow are forewarned that navigating by rail from Orly to one's hotel in Paris may require considerable effort:
It requires a first transfer from the Orlyval shuttle to an RER-B train at Antony station.
A second transfer from subterranean RER platforms to connecting métro lines in Paris can involve several steep sets of stairs and some very long walks, particularly at the gargantuan Châtelet–Les Halles complex.
Since RER-B does not connect directly with five of the métro lines (3, 8, 9, 12, 13), a third transfer is required to reach hotels situated near those lines.
Airport Shuttle Bus + RER-C (express commuter train)
Orly Airport's "Paris By Train" (fr. Paris par le train) shuttle bus connects the Sud and Ouest terminals with the Pont de Rungis - Aéroport d'Orly RER station, where the Line C-1 commuter train (direction: Pontoise) will take you along the Left Bank of the Seine into Paris – crossing the river after the Eiffel Tower. (View route map.)
A one-way combined fare from Orly Airport to Paris is €6.45 (€2.50 for the bus and €3.95 for the RER). Aside from the city buses, this is the cheapest option for travel between the airport and downtown Paris.
With a bus departing every 15 minutes from 4:41 a.m. to 12:56 a.m., 7 days a week, the total journey takes about 35 minutes (10 min. bus + 25 min. RER) to reach the Gare d'Austerlitz SNCF/RER/métro station in the 13th arrondissement. There are fourteen stops on RER-C1 within Paris; all but three of these offer connections (fr. correspondances) to certain other lines, as follows:
Bibliothèque François Mitterrand (métro line 14)
Gare d'Austerlitz (métro lines 5 & 10; SNCF trains)
Saint-Michel - Notre-Dame (métro lines 4 & 10; RER line B)
Musée d'Orsay (métro line 12)
Invalides (métro lines 8 & 13)
Pont de l'Alma (métro line 9)
Champ de Mars - Tour Eiffel (métro line 6)
Avenue du Président Kennedy
Boulainvilliers (métro line 9)
Avenue Henri Martin
Avenue Foch
Neuilly - Porte Maillot - Palais des Congrès (métro line 1)
Péreire - Levallois (métro line 3)
Porte de Clichy (métro line 13)
Note: RER Line C-5 (direction: Versailles Rive Gauche) follows the same path as C-1 above through Champ de Mars - Tour Eiffel, but then veers south with stops at Javel (métro line 10) and Boulevard Victor, before leaving Paris.
Construction advisory: RER Line C is undergoing a massive €250 million renovation project, Grands Travaux Castor ("Great Beaver Works"), which will close the route between Gare d'Austerlitz and Invalides stations for one month each summer — mid-July to mid-August — through the year 2017. During the closures, a special bus (Castor line #652) will shuttle RER passengers berween those stations. (see photo)
Your Transport Questions
Should you have other questions regarding public bus or rail transportation (including the Paris Métro), you can call the RATP English Information Center at 08.92.68.41.14 from a land line; the call will cost you €0.34 per minute in France.
Hotels at Orly
We do not recommend that you stay in a hotel at Orly Airport, if you are on a holiday. After all, it would be a pity to spend a lot of your time and money each day commuting from your base to the sights in the City of Light. Instead, we suggest you have a look at our exclusive selection of typically Parisian hotels.
On the other hand, if you are planning to attend a business meeting at or near the airport, and will be flying out again immediately thereafter – then you might wish to consider staying at the Hilton or Ibis hotels within the Orly airport complex, or the 3-star Mercure hotel just a half-mile away. (Mercure offers a complimentary shuttle service to and from the airport's terminals. Rooms are air-conditioned and soundproofed; other amenities include six meeting rooms and wireless Internet access.)

Services at Orly
Lost & Found: Orly Sud +33 (0)1 49 75 34 10; Orly Ouest +33 (0)1 49 75 42 34.
Orly Airport Information: +33 (0)1.49.75.15.15.
Web site: aeroportsdeparis.fr.
Emergency & Medical Services
1. Medical Centers attend not only to emergencies but also to general medical problems. They are located in both terminals:

at Orly Ouest:
pre-security, Arrivals, Gate C; open 24/7; phone: 01.49.75.45.12.
at Orly Sud:
pre-security, 4th floor, next to information desk; open Mon. - Fri., 8:00 a.m. - 5:00 p.m.; phone: 01.49.75.48.09.
2. Drugstores carry para-pharmaceutical products, regulation-size first-aid kits and other travel-related items. They are located in both terminals:
at Orly Ouest:
pre-security, Departures, Gate E; open 7 days/wk., 7:00 a.m. - 9:00 p.m.; phone: 01.49.75.74.75.
at Orly Sud:
pre-security, Departures; open 7 days/wk., 7:30 a.m. - 9:00 p.m.; phone: 01.49.75.74.70.
Persons With Disabilities, Special Needs
All facilities at Orly Airport are ADA-compliant. Should you need special attention due to a disability, we recommend contacting your airline 48 hours prior to your departure time.
With advance notice, personnel at Orly can provide assistance for disabled and reduced-mobility passengers. Upon landing and getting off the airplane, you will be greeted by an Orly representative who can assist with your transportation.
Banking
The global HSBC Bank maintains branches and ATMs in both South and West Terminals, offering cash advances, assistance in case of loss/theft of travelers checks or credit cards, buying and selling travelers checks and many international currencies, as well as value-added tax (fr: TVA) refunds. Services are available:
at Orly Ouest:
pre-security, Arrivals; open Mon. - Fri., 8:45 a.m. - 5:00 p.m.; phone: 01.49.75.59.49, fax: 01.49.75.59.25.
at Orly Sud:
pre-security, Departures; open Mon. - Sat., 9:00 a.m. - 5:00 p.m.; phone: 01.49.75.59.29.
American Express
Orly Sud:
post-security, Departures level, Hall B; open Mon. - Sat., 6:30 a.m. - 10:30 p.m.
Orly Sud:
pre-security, near luggage carrousels; open Mon. - Sat., 6:30 a.m. - 10:30 p.m.
Currency Exchange
Both HSBC Bank and American Express provide currency exchange services. There are also two Travelex locations situated in Orly Sud.
Ed. note: Travelex is notorious for charging very high fees to exchange currencies, recently reported to be as high as 8.5% of the total funds exchanged, PLUS a €3.50 transaction fee. Instead, we recommend using a debit card with a 4-digit PIN to obtain local funds from an ATM, and using either a credit or debit card for purchases.
North American credit and debit cards containing a magnetic strip (as opposed to European cards with a smart chip) will generally not work in automated vending machines, such as those which dispense rail tickets. When confronted with such a situation, there is little one can do but queue at a ticket counter instead, where the clerk/cashier can swipe your card. [See related article.]
Continued: Airport Codes
Editing, translation, and portions written by Ian C. Mills. © 1999-. All Rights Reserved.
Sources: Wikipedia, the free encyclopedia. Fodor's Paris. RATP (Régie Autonome des Transports Parisiens), the Paris regional transportation authority. Aéroports de Paris, Paris Digest, iFly.com, Paris By Train, les cars Air France.
Images: Airport diagram of Orly Sud and Orly Ouest, from Aéroports de Paris. Dirigible hangars under construction, using a reinforced concrete technique, at the Orly Airport near Paris, France, illus. in L'Architecture vivante (Da Capo Press, New York, 1924), photographer unknown, from the Library of Congress, Washington, D.C. 20540 USA; digital ID: cph.3c10439. Freyssinet's airship hangars at Orly Airport, photographer unknown (ca. 1924), from Archi/Maps. A sea of baggage carts at Orly Ouest, by Pierre Métivier (photographer, December 2005), from Flickr. A Parisian taxi meter, by Henry Salomé (photographer, August 2006), from Wikimedia Commons. Volkswagen Transporter minivan with passengers, from Volkswagen Commercial Vehicles. Air France coach at Orly Airport and Side panel of an Air France coach, by A380spotter a.k.a. Leo Domaingue (photographer, September 2008), from Flickr. Orlyval and Orlybus logos, from RATP. Paris By Train shuttle bus at Orly Airport, by CY2N (pseudonym, real name unknown, November 2008), from Forum Busparisiens. Paris By Train shuttle bus en route to Pont de Rungis RER station, by Francisco Javier (photographer, August 2011), from FotoBus. Castor bus #652 waiting for RER-C passengers at Invalides station, by Geralix (pseudonym, real name unknown, August 2011), from Wikimedia Commons. Aéroports de Paris logo, from ADP. Green pharmacy cross, by Ian C. Mills of Discover France. Assorted Euro notes and coins, from the Eurokulture Blog at University of Missouri. All Rights Reserved.