Overview
Beauvais-Tillé Airport or Aéroport de Beauvais-Tillé (IATA code: BVA, ICAO code: LFOB) is actually located in the community of Tillé (pop. 1,090), 3½ km / 2.2 mi. north-northeast of Beauvais and 85 km / 53 mi. north of Paris (see map).
Despite its official name (and the fact that it is located three times farther from Paris than Roissy-Charles de Gaulle Airport), several low-cost airlines serving the airport advertise it as Paris-Beauvais in order to attract more travelers. BVA handled over 2.9 million passengers in 2010, 95.8% coming from abroad.
The no-frills carriers like to use BVA because it charges lower landing fees than those of larger airports such as CDG or Orly. The three principal carriers serving Beauvais are the Irish airline Ryanair (84% of total traffic), the Hungarian airline Wizz Air, and the Romanian airline Blue Air.
History
The complex was originally built during the 1930s as a small regional airport serving the city of Beauvais, a commune in the Oise department (60), province of Picardy. It was seized by the Germans in June 1940 during the Battle of France, serving as a Luftwaffe military airfield to carry out anti-shipping missions and night bombing raids over England.
Later on, the Luftwaffe replaced the bomber units with day interceptor fighter planes to attack American bombers during the Defense of the Reich campaign. The airfield was bombed heavily by U.S. air forces, pinning down German interceptors and making the runways unsuitable for takeoffs.

read more history... (show/hide)
Allied Liberation
The airport was liberated by Allied ground forces on 3 September 1944, during the Northern France Campaign. Almost immediately, U.S. Army Air Force engineers cleared the airport of mines and destroyed Luftwaffe aircraft. Fortunately, little battle damage was sustained, and the airport became a USAAF Ninth Air Force combat airfield, designated as Advanced Landing Ground "A-61" about 15 September, also being known as "Beauvais-Tillé Airfield".
From Beauvais, the Ninth Air Force 322d Bombardment Group flew B-26 Marauder medium bombers from mid-September until March 1945. Once the combat unit moved east, the airport was used by transport units, flying in supplies from England and evacuating combat casualties on the return trip.
The Americans returned full control of the airport to French authorities on 17 August 1945.
Postwar/Current
In 1950, the French Air Ministry offered to provide the wartime air base to NATO as part of the Cold War development of the alliance, foreseeing the need for additional air bases in the face of the Warsaw Pact threat to Western Europe. Beauvais was selected to become a NATO Emergency airfield (Beauvais-Tillé Air Base), controlled by the French Air Force and intended for use by all NATO air forces to disperse their aircraft in case of war.
Demolition crews arrived to remove the wartime wreckage and any unexploded munitions. However, funding shortages did not allow the construction of a 2,440 m (8,000 ft.) jet runway, dispersal pads and other features found at a modern military airfield. Instead, in 1953 the NATO plans for Beauvais were discontinued and the airport was returned to private hands.
It took until 1956 for Beauvais-Tillé to be rebuilt as a civil airport and reopened for commercial use. Redevelopment began in 2005. The airport then had three gates, housed within a marquee tent while the permanent facilities were being redeveloped.
Today the airport is a modern, well-equipped civil airport. Evidence of its wartime history is the 22 end of the northeast/southwest runway, with about 610 m (2,000 ft.) of the end being the unused surface of the wartime runway, complete with several patched bomb craters left by the Ninth Air Force bomber attacks, and some single-lane concrete roads, being the remainders of wartime taxiways. (See map or satellite view.)
In addition, ruins of the support technical site remain to the northeast of the airport, near the commune of Morlaine, with connecting taxiways and the foundations/rubble of what appears to be buildings or an aircraft hangar. Wartime dispersal revetments1 remain in a wooded area, also connected by taxiways.
[1] An aircraft dispersal revetment is typically a mound or wall of earth or sand (sometimes concrete), constructed for the purpose of protecting parked aircraft against artillery or bombing attacks. Thus, planes were dispersed among many separate revetments.
Facilities
Runways
The total area of the airport is 207 hectares / 512 acres. There are three runways (fr. pistes):
• 12/30 (formerly 13/31)

2,430 m / 7,972 ft., asphalt (macadam) surface. Main runway; can handle commercial aircraft up to medium-sized passenger jets (such as the Boeing 737-800 or Airbus A320). In June 2009, a CAT III instrument landing system (ILS) was installed; it became fully operational on 17 November 2011, greatly reducing delays and diversions caused by bad weather or dense fog (down to 200 m / 656 ft. visibility). Runway 12 is also equipped with a Precision Approach Path Indicator (PAPI).

• 04/22 (formerly 05-21)

708 m / 2,323 ft., asphalt (macadam) surface. Auxiliary runway; reserved for single-engine planes less than 5.7 tons with wingspans up to 15 m / 49.2 ft.

• Not numbered

865 m / 2,840 ft., grass surface. Subsidiary runway; intended for small visiting aircraft. Runs parallel and adjacent to the southwest side of the main (12/30) runway. Under no circumstances should pilots land on any other grass except this runway, because there are still a number of bomb craters hidden by grass!
Airport Terminals (fr. aérogares)
When asked, "Which is the worst airport in Europe and why?", Irish author Paul Kilduff ("Ruinair") replied: "When I was last there, Beauvais was the worst because it wasn't an airport – rather it was a large marquee tent in need of a party. One strong gust of wind and that airport would move even further away from Paris."
In his "Paris 2009" guide book, author Rick Steves wrote that Beauvais-Tillé Airport "is basic (the terminal for departing passengers and baggage claim is under a tent; waiting areas are crowded and have few services)..."
To be fair, one must consider that Beauvais-Tillé had remained a humble regional airport through most of its existence. The first terminal, built in 1980, has been characterized as little more than a "rickety metal shack" designed to accommodate mostly domestic travelers. In 1996, the airport served 65,000 passengers.
| Year | Pass. | Change | | Year | Pass. | Change |
| --- | --- | --- | --- | --- | --- | --- |
| 2001 | 423,520 | | | 2009 | 2,591,864 | +4.32% |
| 2002 | 677,857 | +60.02% | | 2010 | 2,931,796 | +13.12% |
| 2003 | 969,445 | +43.03% | | 2011 | 3,677,794 | +25.45% |
| 2004 | 1,427,595 | +47.26% | | 2012 | 3,862,562 | +5.02% |
| 2005 | 1,848,484 | +29.48% | | 2013 | 3,952,908 | +2.34% |
| 2006 | 1,887,971 | +2.14% | | 2014 | 4,024,204 | +1.8% |
| 2007 | 2,155,633 | +14.18% | | 2015 | 4,330,019 | +7.6% |
| 2008 | 2,484,635 | +15.26% | | 2016 | n/a | n/a |
Table 1: Passenger traffic at Beauvais-Tillé Airport
Starting in 1997, Ryanair began developing its first routes to Beauvais, and within 5 years (2002) the airport's passenger volume had increased more than ten-fold – to 674,300. Five years later (2007), it had reached 2.1 million (see Table 1).
Needless to say, the airport's infrastructure was completely overwhelmed by the growing onslaught of Ryanair passengers. In anticipation of continued growth, the airport planned to build an expanded terminal, but was obliged to erect a large tent until building construction could be completed. The tent was a less than ideal solution; many passengers complained that it was freezing in the winter, uncomfortable at best during the other seasons.
Terminal 1
Beauvais-Tillé has managed to survive its growing pains by expanding Terminal 1 into a 4500m² (48,438 sq. ft.) building; the marquee tent is history.
Terminal 2
Costing €12 million, a new 6000m² (64,580 sq. ft.) Terminal 2 was inaugurated December 2, 2010 and put into service progressively from 6 December. It accommodates new shops, a restaurant, a dozen banks and kiosks, a 2000m² (21,530 sq. ft.) waiting room and boarding area which will contain duty-free shops in the near future.
(See list of airlines and destinations by terminal.)
Hours of Operation
Beauvais-Tillé is equipped to welcome passenger jets between the hours of 7:15 a.m. and 11:35 p.m. Since 2007, a ban on late-night flying has been strictly enforced for the benefit of local residents, as a result of noise-abatement regulations. (Pilots are also instructed to avoid over-flying area villages at all times.)
Passenger planes arriving after 11:35 p.m. can be diverted to Lille Lesquin International Airport (Nord-Pas de Calais), Brussels South Charleroi Airport (Belgium), Liège Airport (Belgium), Paris-Charles de Gaulle Airport or Paris-Orly Airport. In the case of such diversions, airlines will shuttle their passengers to BVA by coach2. The ride from Liège to Beauvais-Tillé is about 3 hours.
Both terminals of the airport are closed to the public between the hours of 11:30 p.m. and 6:00 a.m. Except for nearby hotels3, there are no facilities at the airport for passengers to spend the night4.
[2] "Ryanair crew lock toilets, turn out lights and leave plane as re-routed passengers stage four-hour sit-in." (See news article, 16 Nov 2010, Daily Mail.)
[3] Nearby hotels (within 3½ miles of the airport) include: Campanile - Beauvais (2 stars), Kyriad Beauvais Sud (2 stars), Mercure Beauvais (3 stars), Premiere Classe Beauvais (1 star). There are plans to build a hotel with at least 80 guest rooms about 600 m / ⅓ mile from the terminals, but construction has not yet begun.
[4] On very limited occasions, the airport has made exceptions to its policy of closing overnight. BVA is equipped with 100 portable (camping) cots and 200 blankets to handle unusual circumstances. Be forewarned, however: such situations are infrequent.
Automobile Access and Parking
Beauvais-Tillé Airport is easily reached from autoroutes A16 > E46 > D901 > D1001. There are four car parks: P1 to P4, with a total of roughly 2900 spaces (5 for handicapped). Parking rates are as follows:
0 to 30 minutes - €1.
30 minutes to 1 hour - €2.30.
1 to 2 hours - €4.40.
From 2 hours to 30 days, car park P4 (long-term lot) is slightly cheaper than P1-P3, which are closer to the terminals (see diagram). Consult the airport's rate sheet, where you can also download PDF versions.
An unlimited annual parking pass is available at a cost of €645.00.
If you are unable to present your ticket upon departure, a lump sum payment of €150-200 may be required. The airport is not responsible for any damage to vehicles; there is video monitoring, but no on-site personnel. Use of the car parks implies acceptance of the terms and conditions posted at each entrance. Customers have 20 minutes to leave a car park after paying the cashier.
Further parking information is available via e-mail at service.parking@aeroportbeauvais.com.
Transport to and from Beauvais
There are a number of options for transferring from Beauvais to the City of Paris, or to Roissy-CDG for connections with international flights. A few will also offer transport to certain suburbs and/or Disneyland area hotels.
Car Hire / Rentals
Travel-guide author Rick Steves writes in his "Paris" edition that Beauvais-Tillé Airport is "ideal for drivers who want to rent a car here and head to Normandy or north to Belgium."
Of course, there are any number of equally splendid itineraries for which a rental car is ideal – such as the many wine routes, historic towns, or the castles of the Loire valley, for example.
We would tend to discourage renting a car, however, if you plan to stay primarily in Paris for the duration of your visit – traffic is horrendous, and parking is difficult in the city, but public transportation is easy and extensive.
The airport offers six car rental agencies, all located next to each other on the entrance road (Route de l'Aéroport) into the airport complex:
Avis Budget:
03.44.15.59.81
Europcar:
03.44.15.05.03
Hertz:
03.44.45.01.28
National-Citer:
03.44.11.46.71
SIXT:
03.44.11.19.44
ucar:
03.44.06.49.00
Available car makes include: Audi, BMW, Chevrolet, Citroën, Fiat, Ford, Jeep, Mercedes-Benz, Nissan, Opel, Peugeot, Porsche, Renault, Volkswagen, Volvo, and more (varies by location). Body styles include: Mini/Economy, Compact/Midsize, Family Size, Luxury, Sports Car, SUV/4WD, and Cabriolet/Convertible.
Booking your car hire in advance can save considerably on the base rental, insurance, and – particularly for non-residents of the European Union – the very high French TVA (en. VAT, or Value-Added Tax).
Discover France has partnered with Auto Europe to offer easy online booking of the widest selection of models to suit your needs and budget. Founded in 1954, Auto Europe is an international car hire broker (consolidator) which has negotiated the guaranteed lowest rates with all major rental companies.
According to the model you select, your vehicle pick-up will be pre-arranged at any one of the Beauvais Airport agencies. Toll-free customer service is available round-the-clock – 24/7. For longer visits (21 days or more), an attractive lease-buyback program is also available, featuring your choice of brand-new Peugeot models.
For the rules of the road, driver tips, information about speed limits, fuel, highway tolls, rest areas, parking, and a glossary of useful terms – see our article "Driving In France".
Taxis
There is a taxi rank outside the airport's terminals.
Taxi rates vary according to the time of day and the zone of travel (urban, suburban, and beyond). In normal traffic and excluding supplements, expect a daytime fare between Beauvais Airport and Paris to range from €100 to €120, depending on the arrondissement (neighborhood); evening/night fares range from €140 to €160.
In addition to the metered amount, there is a supplement of €1 for each piece of luggage after the first (stowed in the luggage compartment), as well as €3 for a fourth passenger. Families traveling with infants should keep in mind that taxis will not have a child seat available.
When you phone for a taxi to return from Paris back to the airport, the meter starts running from the point where the taxi was dispatched — which could be anywhere in the city. Consequently, the fare showing on the meter may already be €7-10 by the time you board the vehicle at your hotel.
It is your responsibility to have the correct amount of cash (in Euros) for the fare. The use of credit cards in French taxis is rare, and personal checks are usually not accepted. It is also customary to tip the driver about 10% of the fare, if service was good and the cab is clean.
Train to Gare du Nord
Unlike Charles de Gaulle and Orly airports, there is no train station in Tillé. The closest rail connection – Gare SNCF – is in the town of Beauvais, about 3½ km southwest from the airport (see Google map). To reach the station, one can either take a shuttle bus (€4/person; 25-minute trip, with four intermediate stops) or a taxi (flat rate up to 4 passengers: €13 by day, €16 by night; 10- to 15-minute trip).
The fare for a TER (Transport Express Régional) Picardie #19 train from Beauvais city center to the Gare du Nord station in Paris is €12/person; the train trip can take from 71 to 82 minutes (with up to 8 intermediate stops). No advance reservations are required; seats are on a first-come, first-served basis.
The TER departure intervals are rather erratic, depending on the time and day. Consult the SNCF web site (in French only) for a schedule. In their drop-down menu under "Fiches horaires", select "19: Beauvais - Persan-Beaumont - Paris".
At Gare du Nord (18, rue de Dunkerque, 75010; see satellite view), one can connect with the Métro (lines 2, 4, 5), RER (lines B, D, E), Transilien (lines H, K), day bus (lines 38, 42, 43, 46, 302), night bus (lines N01, N02, N14, N43, N44, N140, N143), pre-reserved shuttle, or take a taxi from the ranks to one's hotel. (TER tickets are not transferable to other transit systems; a new fare is required.)
The RER-B connects to both Roissy-Charles de Gaulle and Orly airports (the latter via an additional Orly-VAL connection at Antony station). RER-D quickly whisks you to Gare de Lyon, and RER-E to Gare Saint-Lazare.
To get to Disneyland from Gare du Nord, take the RER-D to Gare de Lyon, then the RER-A4 in the direction of Marne-la-Vallée - Chessy, which exits at the entry to Disneyland. The special RER fare (€7 one-way, €14 round-trip) can be purchased at any station's ticket counter, or from automated ticket machines (using coins or smart-chip credit cards – not American magnetic-strip cards).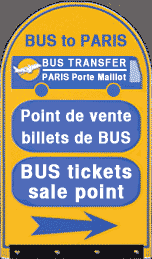 Look for this sign
outside the terminals.
Coach to Porte Maillot
The airport offers an economical non-stop, point-to-point shuttle by coach (bus) to the Boulevard Pershing car park at Porte Maillot on the far western edge of Paris (17th arrondissement; see map or satellite view), across from the Hotel Concorde-La Fayette and the Palais des Congrès.
One-way bus fare is €15/person (cash only; includes luggage). The trip takes about 75-80 minutes; buses leave the airport 20-25 minutes after each flight's arrival (see bus-stop diagram).
Walking south from the Pershing car park (Paris), in the Place de la Porte Maillot, one finds an entrance to line 1 of the Métro system. A separate entrance to line C of the RER may be found a short distance to the east, on Boulevard Pereire.
When returning to Beauvais Airport from Porte Maillot, be sure to board the bus 3h15 before the scheduled departure time of your flight. The last bus departs from Paris at around 7:50 p.m. each day, though times are subject to change. Consult the online bus timetable to be sure.
Bus information: 0892 682 064 (there is a €0.337/minute charge to call); or download the carrier's Terms & Conditions (PDF document).
Services at Beauvais Airport
Banking & Currency Exchange
ATM – Automated Teller Machine (fr. distributeur de billets)
La Banque Postale Beauvais-Tillé Aéroport AP
(no phone number or hours listed for this location)
Travelex Worldwide (currency exchange)
Phone: 03.44.11.41.34
Hours: Mon. - Sat., 8:15 a.m. - 8:15 p.m.; Sun., 8:15 a.m. - 3:15 p.m.
Western Union (money transfer)
Phone: 08.25.82.58.42
Hours: Mon. - Sun., 9:00 a.m. - 8:30 p.m.
Customs & Immigration
Phone: 03.44.45.08.92 ; Fax: 03.44.45.09.59
Food & Drink

• Petit Casino (mini-market / convenience store; fr. superette)
Hours: Mon. - Sun. & holidays, 7:30 a.m. - 10:00 p.m.
First established in the Rhône valley of southern France, Petit Casino has grown to 2,000 locations around the country, serving 700,000 customers daily.


• Caféteria Relais H, Aéroport Beauvais-Tillé
Fast-food restaurant. Owner: Noella Lemoine. Hours: 10:30 a.m. - 11:00 p.m., 7 days/wk.
Phone: 03.60.05.00.78 ; E-mail: 373167@relay.fr

• Pizzeria Tony, Aéroport Beauvais-Tillé
Pizza restaurant and bar. Dine-in or take-out. Owner: Munir Maqelara. Hours: 6:00 a.m. - 10:30 p.m., 7 days/wk.
Phone: 03.44.11.19.99 ; 03.44.15.18.61
Lost Luggage
Phone: 03.44.11.46.00 ; Fax: 03.44.11.46.60 ; E-mail: bagages@aeroportbeauvais.com.
Police
Phone: 03.44.52.40.45
Weather – Metéo France
Phone: 03.44.06.27.40 ; Fax: 03.44.06.27.49

Wi-Fi Service
Wi-Fi connectivity (802.11b, 802.11g) is available in the airport's terminals through France Telecom's Orange network. The cost is €4.50/1 hour, €10/3 hours, and €15/10 hours. (The 3h and 10h plans can be used anytime within 30 days from first login, at more than 30,000 Orange hotspots in France.)
Existing Boingo and iPass subscribers can log-in through their respective networks.

Flying Clubs
AéroClub du Beauvaisis, Route d'Amiens, B.P. 30755, 60007 Beauvais; phone/fax: 03.44.48.04.43; e-mail: <acbeauvaisis@free.fr>.
The club owns 3 planes (Cessna 152, Tecnam P2002, Diamond DA 40) and runs a pilot school. Membership is open to all.
Aéroclub Beauvais-Tillé, Aéroport de Beauvais-Tillé – 1, avenue de l'Aéroport, 60000 Tillé; phone: 03.44.48.28.52; fax: 03.44.06.38.80; e-mail: <acbt60@free.fr>.
The club owns 4 planes (Jodel D120, two Robin DR400's, Cessna C-150) and runs a pilot school. Initiation flights start at €50/single adult; €70/two adults.
Airport Operations
Majority shareholder* (51%): Chambre de Commerce et d'Industrie de l'Oise (CCIO)
Address: 1, Pont de Paris - BP 60250, 60002 Beauvais Cedex
Phone: 03.44.79.80.81
* The remaining 49% is owned by Véolia Transport.

Airport operator: Société Aéroportuaire de Gestion et d'Exploitation de Beauvais (SAGEB)
Airport Director: Marc Amoudry ; phone: 03.44.11.19.84 ; fax: 03.44.11.46.92
Assistant to the Director: Anne Letocart <anne.letocart@aeroportbeauvais.com> ; phone: 03.44.11.19.83 ; fax: 03.44.11.46.92
Station Manager: Valérie Carrey <valerie.carrey@aeroportbeauvais.com> ; phone: 03.44.11.46.79 ; fax: 03.44.11.46.60
Operations Director: Marc Lease <christiane.graziani@aeroportbeauvais.com> ; phone: 03.44.11.46.13 ; fax: 03.44.11.41.66
Environmental Director: Florent Mitelet <florent.mitelet@aeroportbeauvais.com> ; phone: 03.44.11.41.53 ; fax: 03.44.11.41.66
Sales Director: Guy Monnehay <guy.monnehay@aeroportbeauvais.com> ; phone: 03.44.11.41.57 ; fax: 03.44.11.46.92
Press Relations: Élodie Demonceaux <elodie.demonceaux@aeroportbeauvais.com> ; phone: 03.44.11.46.10 ; fax: 03.44.11.41.66
Accounting & Financial Director: José Manuel Cerezo <jose.cerezo@aeroportbeauvais.com> ; phone: 03.44.11.41.58 ; fax: 03.44.11.41.66
Fire Chief: Jacky Leclerc <jacky.leclerc@aeroportbeauvais.com> ; phone: 03.44.11.46.64
IT Director: Jean-Paul Bruneau <jean-paul.bruneau@aeroportbeauvais.com> ; phone: 03.44.11.19.82 ; fax: 03.44.79.80.63
Customer Service: service.clients@aeroportbeauvais.com
Official airport web site: www.aeroportbeauvais.com
Continued: Roissy-Charles de Gaulle Airport
Editing, translation, and portions written by Ian C. Mills. © 1999-. All Rights Reserved.
Sources: Wikipedia, the free encyclopedia. RATP (Régie Autonome des Transports Parisiens), the Paris regional transportation authority. Aéroport de Beauvais-Tillé. Paris By Train, a site by Ben Lam. TER-SNCF. A 3 Sept. 2007 financial report submitted to the Chambre Régionale des Comptes de Picardie (Amiens) by Jacky Lebrun, then-president of the CCIO (Chambre de Commerce et d'Industrie de l'Oise), archived by La Cour des Comtes. Aviation History (1955), from Flightglobal/Archive. Annual passenger data, from Union des Aéroports Français (UAF).
Images: Diagram of Beauvais Airport and Map of Beauvais shuttle bus terminus at Porte Maillot, from Aéroport de Beauvais-Tillé. Beauvais visual landing diagram, from Service de l'Information Aéronautique (SIA), France. Martin B-26 Marauder in flight over France, by Charles E. Brown (photographer, b. 20 January 1896, d. 9 October 1982), from Wikimedia Commons. Close-up view of the Martin B-26 Marauder in flight, photographer unknown, from Wikimedia Commons. Cockpit of the Martin B-26 Marauder, photographer unknown, from KenVanSlyke.com, a site by David Van Slyke. View inside Beauvais Airport's Terminal 1 (check-in area), by Rastrojo (photographer), from Wikimedia Commons. View of new seating area inside Beauvais Airport's Terminal 2, October 2010, photographer unknown, from Alpha Airport (a site by Felix Marquez). Departures board in Beauvais Airport's Terminal 2, photographer unknown, from Brand Brothers. Volkswagen Transporter minivan with passengers, from Volkswagen Commercial Vehicles. Street view of the Gare de Beauvais, photographer unknown, from Skyrock blog: "Tout les gares les plus dangeureux de Picardie" [sic]. Street view of the Gare de Beauvais SNCF train station, by Lucie a.k.a. Chatsam (photographer, May 2010), from Wikimedia Commons. Rail-side view of the Gare de Beauvais SNCF train station, by Emily Troutman (photographer, April 2009), from Flickr. La Gare de Beauvais postcard, early 1900's, photographer unknown (scanned by Claude Shoshany, retouched by Ian C. Mills), from Wikimedia Commons. Scale model of Gare de Beauvais [end view, showing trains on rails behind station], created by "PK 60" (Point Kilométrique 60, a non-profit railroading club), exhibited at "La Fédération Française de Modélisme Ferroviaire" in April 2003; photographer unknown, from Rail France. Scale model of Gare de Beauvais [frontal view], created by "PK 60" (Point Kilométrique 60, a non-profit railroading club), exhibited at "La 11e Exposition de Modélisme de l'Union Artistique et Intellectuelle des Cheminots Français (UAICF)" in May 2009; photographer unknown, from LR Presse - forum on 60180 Nogent-sur-Oise. Panoramic view of Gare du Nord interior, by Nicolas Sacré (photographer, December 2008), from Flickr. Street view of the Gare du Nord, 10th arrondissement, Paris, by Dan Kamminga (photographer, August 2004), from Wikimedia Commons. View of Gare du Nord from rue de Dunkerque, 75010 Paris, by Claus Seyfried (photographer, May 2003), from Wikimedia Commons. Map of Porte Maillot métro, RER, and bus stops, from the International Cartographic Association. Signage in Porte Maillot station, métro line 1, by Clicsouris (photographer, November 2008), from Wikimedia Commons. All Rights Reserved.