Introduction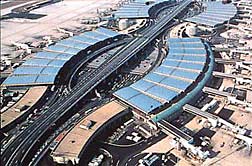 Aérogare (Terminal) 2 at CDG
Paris is principally served by two international airports: Roissy-Charles de Gaulle (CDG) to the north of the city, and Orly (ORY) to the south. Together, these airports welcome 75 million passengers annually, with flights to 500 cities in 132 countries. Most international flights arrive at Roissy-CDG, while domestic French flights generally arrive at Orly.
Both CDG and Orly offer extensive airport facilities – including duty-free shops, car rentals, restaurants, hotels, post offices, and ground transport into the city center.
A third international airport, Beauvais-Tillé (BVA), has gained increasing popularity with some European travelers in recent years, handling nearly 3 million passengers during 2010. Located 84 km/52 miles from Paris in the department of Oise (province of Picardy), Beauvais primarily serves as a hub for budget airlines hailing from Ireland, the U.K., and a few other western European countries.
The smallest airport near Paris – Le Bourget (LBG) – has been closed to international traffic since 1977, and to regional traffic since 1980. Today, it is only used for general aviation (business jets) as well as air shows. It is perhaps most famous as the landing site for Charles Lindbergh's historic solo transatlantic crossing in 1927, and was the only airport serving Paris until Orly was built in 1932.
What About Those Famous French Strikes?
French political cartoon, translation:
(Newspaper headline: "General Strike")
"It won't last long."
"What, the demonstrations,
or the government?"
© Erik Tartrais, artist
The French are particularly well-known for their frequent labor strikes, known as les grèves, which can cripple public transportation for several days at a time. They occur at least once (and sometimes more often) every summer, and occasionally during other times of the year. During 2005, for example, transportation stoppages and slowdowns occurred 9-11 March, 1-3 June, and again 3-5 October.
As the videos below attest, French transportation systems have been beset by various labor actions in recent years – including several air traffic controller and railway strikes, for example – which have left tourists and local residents alike stranded and frustrated.
The RATP web site once addressed this issue in its FAQs, but has since discontinued the practice. Instead, scheduled interruptions of any sort – including construction projects, temporary line closures, emergencies, and slowdowns caused by worker protests – are now detailed on its Scope pages (in French only). Inexplicably, during the past half-decade, there has been a marked decrease in English-language pages offered by RATP – despite a strong presence of anglophone travelers to Paris.
The independent web site www.strikeinformer.com, started in 2010 by Peter Yiamarelos, offers plentiful news about transport strikes throughout France. You may also find it fruitful to employ your favorite search engine(s) by entering keyword strings in English or French – such as [France transport strike] or [grèves transports Paris]; add the current year after either string.
Of course, private transportation operators – such as the shuttle van services, taxis, and limousines – are not affected by such labor strikes. TIP: If you are aware of a strike occurring during your planned visit to Paris, we suggest reserving your transfers in a chauffeured van, sedan, or limousine well in advance – as demand for all private forms of transportation will be high. For instance, during a slowdown or stoppage of the RER (express rail) between airports and Paris, one can expect a mad dash by travelers to find any available taxis curbside at the terminals.
Continued: Beauvais-Tillé Airport
Editing, translation, and portions written by Ian C. Mills. © 1999-. All Rights Reserved.
Sources: Wikipedia, the free encyclopedia. Fodor's Paris. RATP (Régie Autonome des Transports Parisiens), the Paris regional transportation authority. Aéroports de Paris, Paris By Train, France 24 International News .
Images: Aerial view of Roissy/CDG Aérogare 2, from Air France. Political cartoon: "Grève Générale" © Erik Tartrais (artist). Roissybus and Orlybus logos, from RATP. Airport diagrams of CDG and Orly, from Aéroports de Paris. CDG Terminal 2E Departure Lounge, by Rachel Arnold (photographer), from Wikimedia Commons. N1, N2, and N3 TransRoissy shuttle buses at CDG Terminal 2, from Réseaux Franciliens, a discussion board on public transport options in Ile-de-France. Escalator from Arrivals to baggage claim at CDG, from Telstar Logistics at Flickr.com. Escalator from Arrivals to baggage claim at CDG, by Bill Holmes (photographer, July 2006), from Flickr. Baggage claim carrousels at CDG Airport; note carts in background, by Alvaro Ennes (photographer, August 2008), from Dreamstime Stock Photos. A Taxi Parisien rooftop sign (photographer unknown), from Blog HotelaParis.com. A newer Taxi Parisien rooftop sign; green light indicates it is available for a new fare (photographer unknown), from Le Parisien. A newer Taxi Parisien rooftop sign; red light indicates it is carrying a fare, by Sébastien Soriano (photographer), from Le Figaro. Volkswagen Transporter minivan with passengers, from Volkswagen Commercial Vehicles. Side panel of an Air France coach and Air France coach at Orly Airport, by A380spotter a.k.a. Leo Domaingue (photographer, Sept. 2008), from Flickr. Platform of the RER station at CDG, by Konishi (photographer), from Flickr. RER-B3 train in the station at Charles de Gaulle Airport, by H. Daniel (photographer), from Wikimedia Commons. Bird control personnel at CDG and related gallery images (photographers unknown), from DGAC (Direction Générale de l'Aviation Civile). All Rights Reserved.